Ransom Road Campus Awarded Lord Lieutenant's Award for Voluntary Service 
On Wednesday 8th November, Nottingham Academy Ransom Road Campus held a very special celebration evening, awarding young leaders and receiving a prestigious award for voluntary contributions.
The evening began with an introduction from Mr Kulaya, Mr Attwood and Mr Hall they explained that a group of exceptional pupils were to be awarded for their contributions to the Academy in the categories shown below.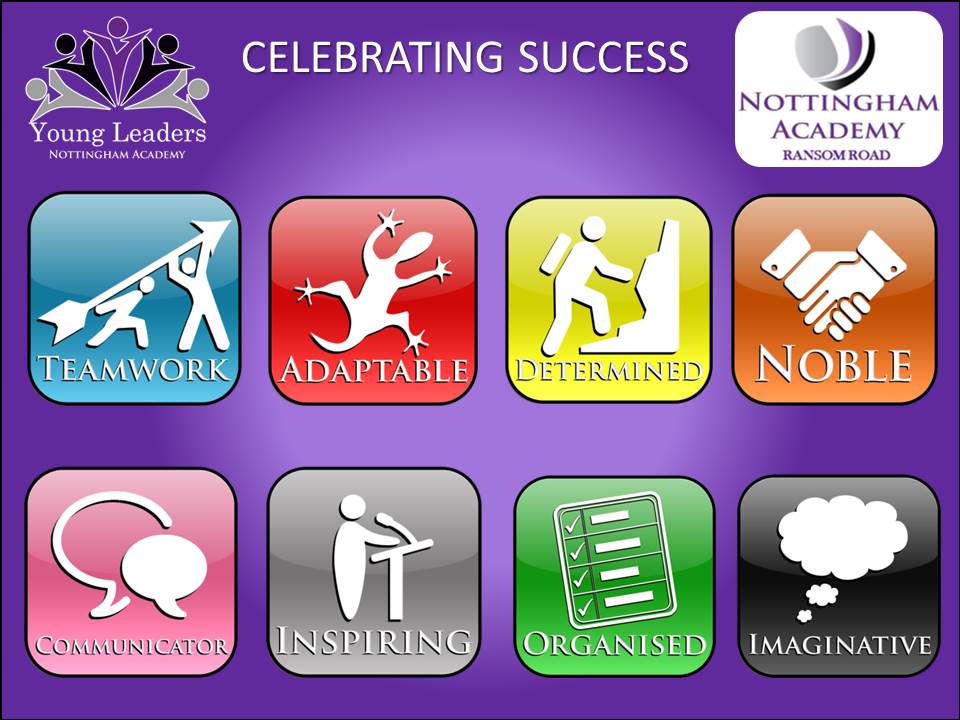 These pupils are recognised as Nottingham Academy Young Leaders, and each pupil was celebrated with an award presented to them by Principal, Mr Kulaya. Friends and family joined the celebration and enjoyed refreshments and musical performances.

The second half of the evening saw a presentation from Vice Lord Lieutenant, Tim Richmond and Deputy Lieutenant Sue Gorham, who visited the Academy in the Summer to talk to Head Boy and Girl and representatives from the School Council to find out about the charitable and voluntary activities Nottingham Academy has been involved in.

As a result of that visit Nottingham Academy has been selected by Lord Lieutenant Sir John Peace to receive the Lord Lieutenant's Award for Promoting Voluntary Service, for voluntary and charitable service in Nottingham and Nottinghamshire in 2017. This award is given to acknowledge and celebrate the valuable role undertaken by many schools in helping local communities and actively supporting important causes. The Lieutenancy is the link between the Monarchy and the County of Nottinghamshire. It represents and upholds the dignity of the Crown and celebrates the achievements of the people of Nottinghamshire and their service to others. Ransom Road now holds this award for three year providing our voluntary and charitable work continues, as it has for the last six years.

Principal, Mr Kulaya said "The human warmth shown by our pupils has extended beyond our classrooms, beyond our year groups, beyond the St Anns community that we serve, beyond our city; there is a true sense from our school community of being ready to help, beyond where you are.

This year Ransom Road pupils contributed over £2000 to charitable causes, through a range of fundraising activities developed by the 50 members of the school council and supported by the whole school.

Deputy Lieutenant Sue Gorham said, "This school places a strong emphasis on developing young people to be good citizens, and it is clear that voluntary service is well embedded" she continued to read the citation sent from Sir John Peace on behalf of Her Majesty the Queen "in recognition of your group's outstanding service to your local community and the significant benefit that this makes to the lives of others, I congratulate Nottingham Academy Ransom Road site for supporting this valuable voluntary initiative and great credit is due to the young people who participated."

The Vice Lord Lieutenant Tim Richmond went on to thank Nottingham Academy Ransom Road for fundraising on behalf of many charities including Children in Need, Comic relief, Nottingham Winter Shelter and Nottinghamshire Hospice, a charity that he is a patron of.
Nottingham Academy is privileged and delighted to have received this recognition, our Young Leaders, School Council and Head Boy and Girl will continue to be ambassadors for our Academy leading others to contribute to and support causes which are close to their hearts. This award is a testament to the empathy, determination and aspirations of our pupils.
Congratulations to you all.